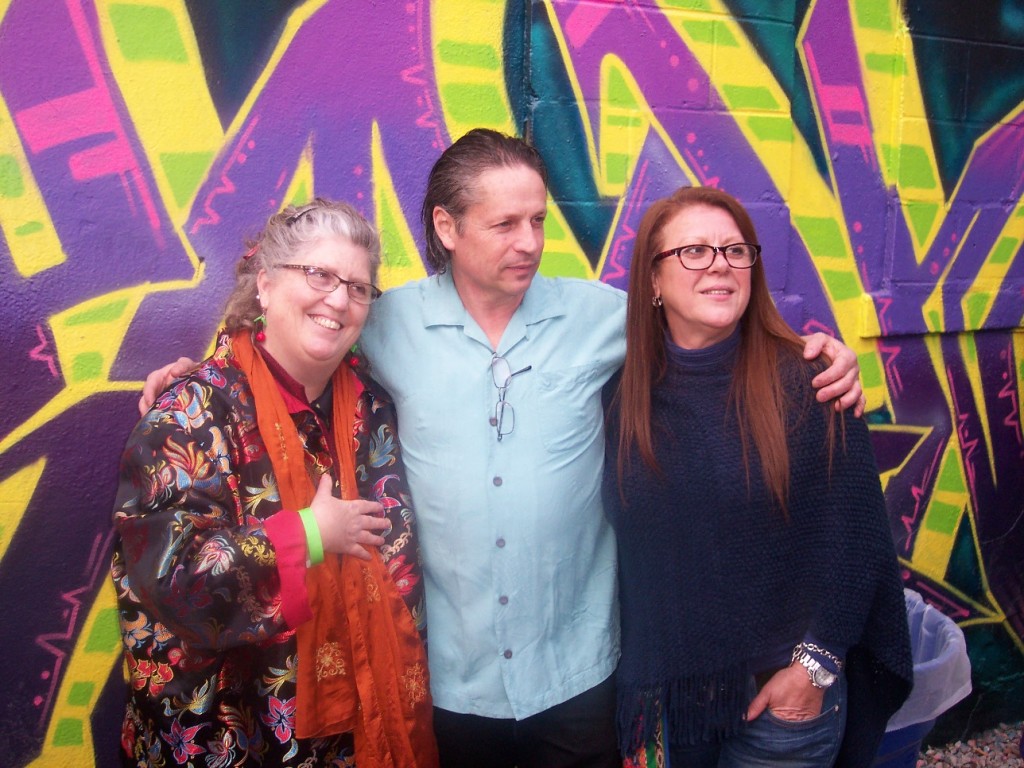 North Shore business owners, Jazz Pennino owner of Mode Music, Vivian Vassar owner of Hey Viv & Ettore Mazzei owner of chez vous caterers have each been in business for 30 years & had a chance to celebrate their accomplishments at last month's "This Way on Bay" mixer at the Art Cypher /Overspray Event Space.
Jazz & her husband John started Mode Music & Phrygian Studios in 1985 at their present location, at 1238 Bay Street Staten Island, NY 10305. They do music in many modes: lessons, sales of instruments, repair, rehearsal & recording studio. Their store hours are Tuesday – Friday from 12 to 8pm and Saturday from 11 to 3pm. They take a well deserved break on Sunday & Mondays. To get your music on call (718) 816-4888 or visit them on facebook.
Vivian Vassar started Hey Viv in a modest storefront in Port Richmond. In the early 1990's she identified the internet as the next big thing and went viral. Today, Hey Viv is true to their original mission of selling 50's retro clothing to include poodle circle skirts, crinolines, sock hop and full skirt retro dresses. Hey Viv  has joined with Shake Rattle Radio to put together a series of radio spots that highlight 50's songs and retro 50's fashions. Reach out to Viv at (866) 860-2314 and get your retro on at HeyViv.com
Ettore, french chef of Italian descent started chez vous from the first floor storefront at Edgewater Hall (691 Bay Street, Staten Island, NY 10304) in 1986. today chez vous caters events to the hip & stylish at Edgewater Hall & at his clients home & offices in the tri-state area. To enjoy mouth-watering delights at your home or ours call (718) 720-0900 or visit our website. For a virtual tour of Edgewater Hall built in 1876, click here.
This Way on Bay hosts 3rd Thursday mixers at different Hip North Shore locations every month. Enjoy Music, Art, Catering by Chez Vous,  Soft Drinks, Desserts and Coffee. Mixers Start at 5:30pm on Thursday's. Next Mixers May 21st at the famed Stapleton Landmark Santander Bank (81 Water Street) & June 18 at SI Maker Space (450 Front Street.)

Join us for this month's mixer! See the official Facebook event, here.
Written By Ettore
Ettore grew up working in the restaurant & catering business from the age of 12. He graduated from the College of Staten Island with a Bachelors's in Mathematics & Finance in 1985. In 1986 he started Chez Vous caterers from the basement of his home in Dongan Hills and caters parties at homes and businesses in the tri-state area. In Oct 1987 he rented the first floor of Edgewater Hall at 691 Bay Street. A few years later he added the party rental division to Chez Vous. In 1998 he purchased Edgewater Hall and renovated the first and second floors making them party spaces. Shortly thereafter he purchased from his tenant the cellar bar creating Dock Street Underground a live music venue. His creative projects include his CD Sweet on You, his book, It's Your Right to be Fit, Sexed, and Happy, So Claim It, and he is developing a TV series called Business Underground. His record labels Hanz On Music and Dock Street Records has produced Method Man's "The Meth Lab." and produces 2nd Generation Wu projects.