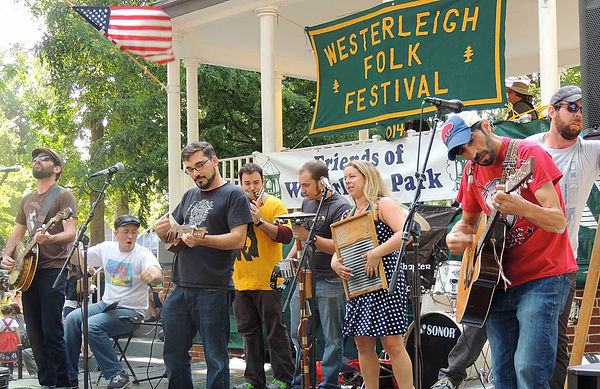 This Saturday marks the 9th Annual Westerleigh Folk Festival, Staten Island's Original Roots Music Festival at Westerleigh Park.
Admission is FREE and this year's event will feature musical acts, art exhibits, and local craft vendors. All culled from the best local artists Staten Island has to offer.
In terms of musical acts, there will be two different stages set up.
The Gazebo Stage:
11:30-12:10  Allergic To B's
12:35-1:15 Fly By Midnight
1:40-2:20 Tom Cintula & Buffalo 24
2:35-3:35 The Kennedys
4:00-4:40 The Karlus Trapp Band
5:05-5:45 The Wahoo Skiffle Crazies
6:10-7:00 The Lisa Scherma Band with Jake Moffett
and the Meadow Stage:
12:10-12:30 Lys Obsidian & Nani FM
1:15-1:35 Cadre
2:20-2:40 All Hands on Deck
3:35-3:55 Celestial Harmonies
4:40-5:00 Sing Yoga
5:45-6:05 Dollitis
So with a full day of music and art to enjoy, there's no reason not to stop by WestFest at some point this Saturday afternoon.
Westerleigh Folk Music and Art Festival 2016
Westerleigh Park
Saturday, September 24th
11am – 7pm
Westerleigh Park is located at the corners of Neal Dow & Maine Ave. off Jewett Ave.
Written By Vin Forte
Vin Forte is a writer. He also hosts the 'Any Time with Vin Forte' podcast. He is currently working on an anthology of short stories due out later this year.