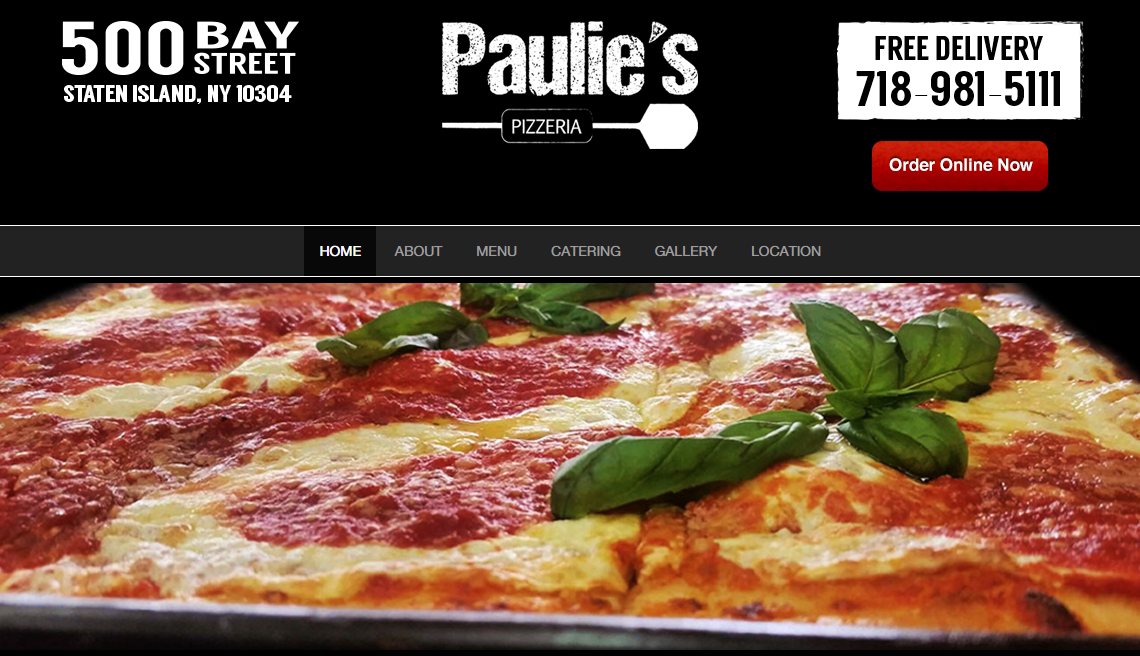 The North Shore of Staten Island is home of great pizza. Newcomer, Paulie's Pizzeria, located at 500 Bay Street serves hot, delicious thin-crust pizzas, calzones, rolls, pasta dishes and will open Errigo's their full service restaurant next door in the Spring.
We had a chance to chat with owner Phil Errigo and he spoke about how the restaurant only uses the freshest, highest quality ingredients and recipes, to prepare resulting in dishes that truly taste home-made. His top priorities are providing great food at reasonable prices and excellent service from a staff that makes you feel like family. They offer free delivery service and your food is guaranteed to arrive hot and fresh. They specialize in catering all occasions for any number of people.
Paulie's Pizzeria | 500 Bay Street | website | where you eat
Other pizza joints on Bay Street & the surrounding area are listed by town:
Rosebank
Molo | 987 Bay St | where you eat
Pronto | 1077 Bay St | website
Rosebank Pizza | 1372 Bay St | where you eat
Tony's Brick Oven | 1140 Bay St | website
Stapleton
Romeo's | 117 Broad St | where you eat
Bari's | 596 Bay St | website
St George
Pier 76 | 76 Bay St | website
Guisepes | 5 Hyatt St | where you eat
Written By Christopher Olivieri
Chris is the co-owner of NB Technologies, co-founder of Dog and Pony Show, video producer, freelance writer, internet coach, fire alarm inspector, former child model, and Photoshop guy. He's also a fan of pop-culture, proponent of awesomeness in the world, Mets fan, self improvement enthusiast, & ENTP.