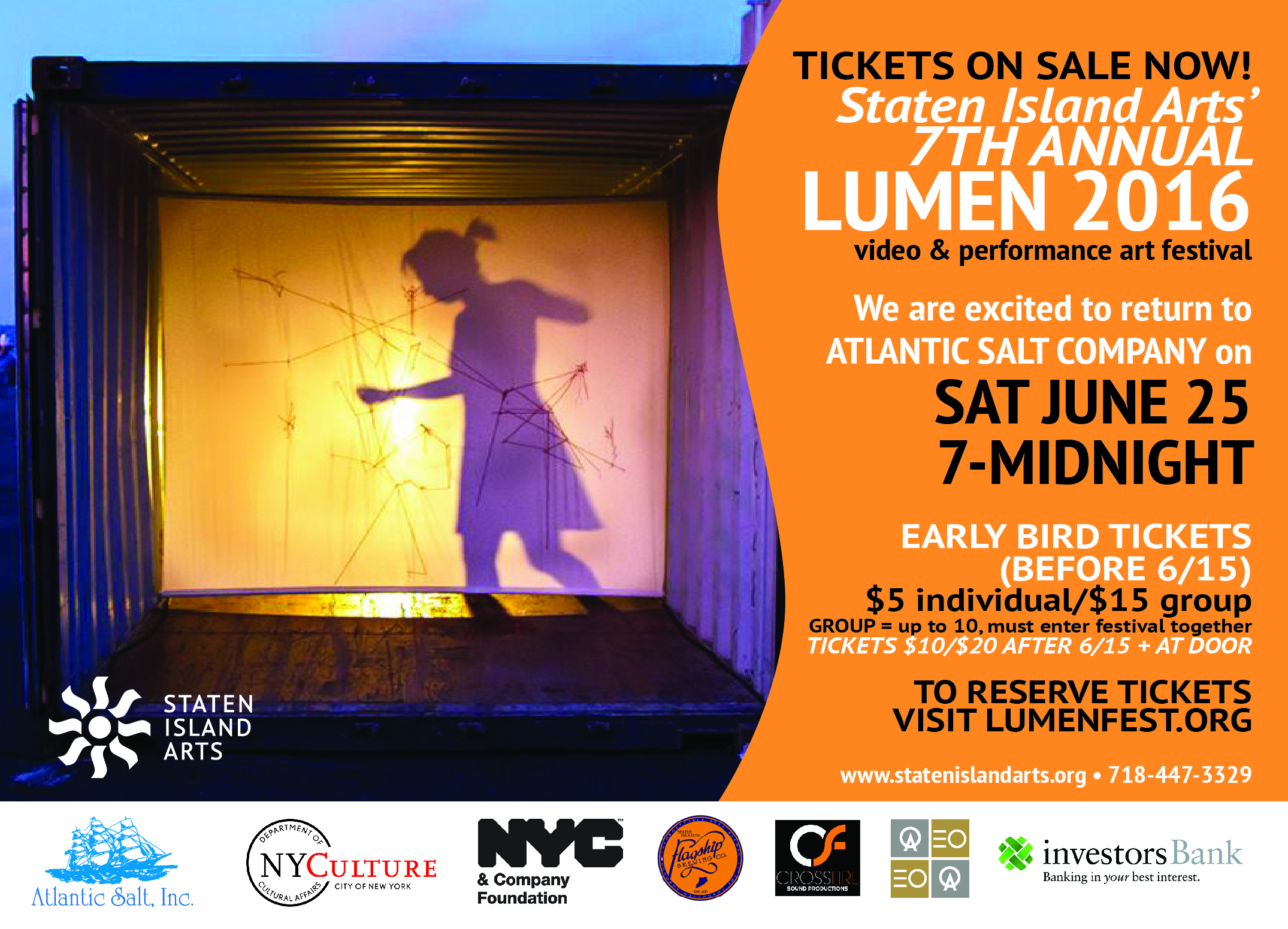 This Saturday night; art, live performance, music, and local sellers will converge on the grounds of the Atlantic Salt Company for this year's LUMEN festival.
LUMEN is a nomadic contemporary art experience in New York City featuring emerging and established artists. The goals of LUMEN are to connect artists with each other and the wider community. This annual event brings original visual, performance and installation art to new audiences, under the artistic vision of various curators from across NYC.
In years past, LUMEN has used other big-scale SI locales as it's set-piece, such as the Lyons Pool and Snug Harbor. But this year, LUMEN returns to the Atlantic Salt Company; site of LUMEN 2012 and 2014.
I remember going to the original 2012 LUMEN at the Salt Company and it being a real inclusive event. There were installations that inspired, were visually-pleasing, interesting live performances, bizarre happenings, and mountains and mountains of curious salt and a cool breeze from the waterfront.
This year will only prove to be bigger and better.
Curated by Monica Valenzuela, this year's list of participating artists & vendors include:

Angeli, Benjamin Bennett, Vanane Borian, Karla Carballar, Gabri Christa, CityLore, Day de Dada, Dave Derwin, David DiLillo, Laure Drogoul, Melisande Echanique, John Hastings, Denise Iris, Kristopher Johnson, Matthew Keff, Sinead Keogh, Steve Lambert, Steven Lapcevic, Douglas La Tourette, Laura Neese, Michael Newton, Panoply Performance Laboratory, Arya Sukapura Putra, Nancy Quin, Vernon Reid, Tom Ronse, Omari Soulfinger, Staten Island Arts Folklife, Staten Island Shakespearean Theatre, Stereotype Co, Scott Van Campen, Vincent Verdi, Jay Weichun.

Featuring Staten Island Arts' 2016 Excellence in the Arts Awardees: Justine Lordo, Victoria Munro, and Lys Obsidian.

Beer provided by Flagship Brewing Company, Beans and Leaves Coffee and Tea Cafe; Ho' Brah A Taco Joint; Valducci's Pizza Truck; DUB Pies; Pier 76; Mac Truck; Tip The Wagon Ices; Beezy Bees Honey; Gigglemugs; Free Watermelon, courtesy of Atlantic Salt Co Inc.
That's not all. There's even a full list of marketplace/gift vendors and a constantly updating list of full participants over at LUMEN's website.
LUMEN is going down this Saturday, June 25th, from 7pm-After Midnight.
Tickets are $10 individual/$20 Group of up to 10, entering festival at the same time and can be bought at the gate or by clicking here.
There will also be special free LUMEN shuttle buses to take people from the SI Ferry to the Atlantic Salt Co.
Written By Vin Forte
Vin Forte is a writer. He also hosts the 'Any Time with Vin Forte' podcast. He is currently working on an anthology of short stories due out later this year.