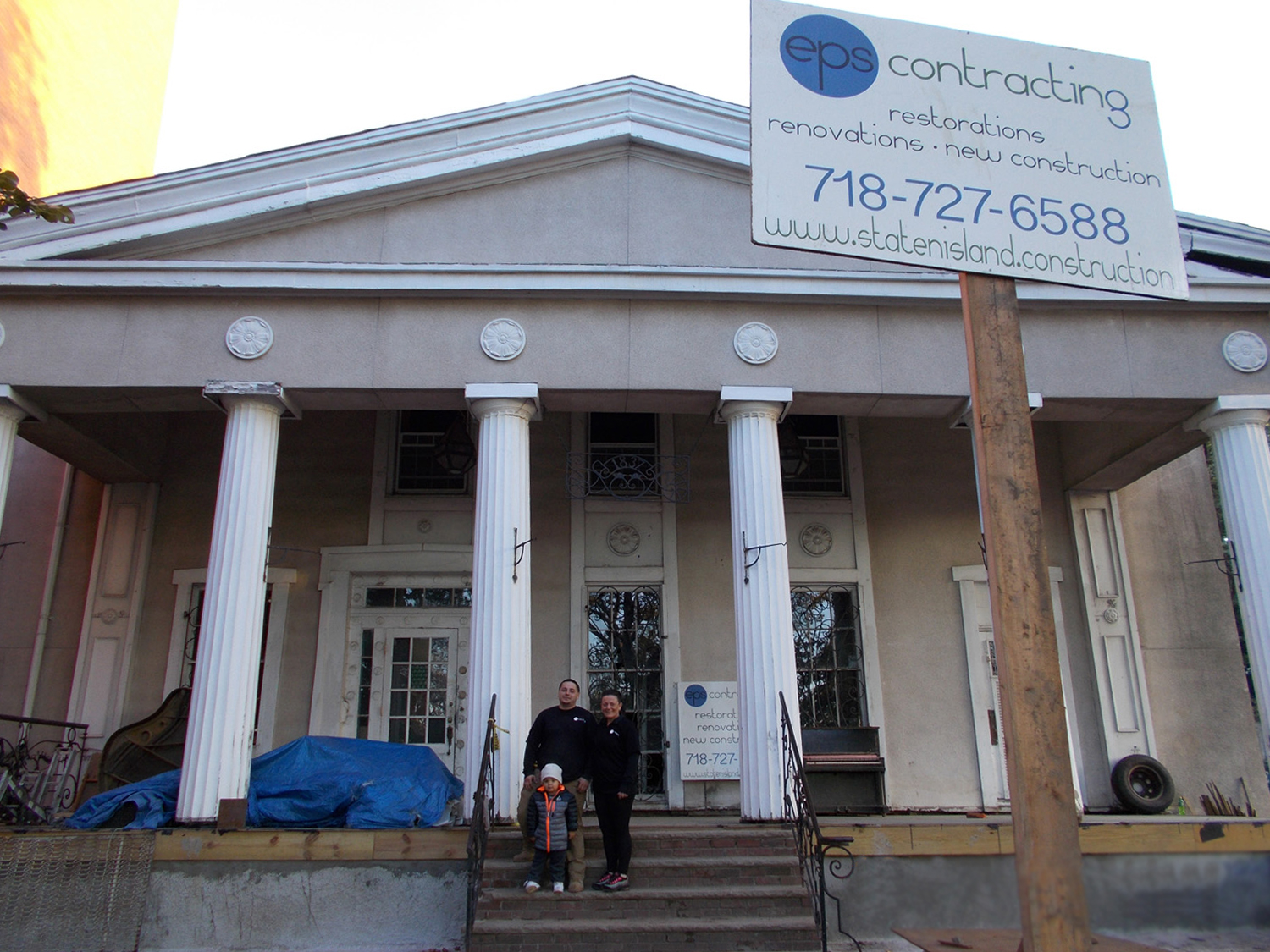 If you've ever taken a drive or a stroll down Richmond Terrace on Staten Island, you may have gone by The Pavilion on the Terrace, which has been closed for 12 years. The building was first constructed as a residence in the year 1835 and then in 1965 started operating as a banquet hall until its eventual close in 2005. Since its closure, this historical treasure has been sitting and waiting for new life and that new life has come.
EPS Contracting, a Staten Island-based company, is currently rebuilding and renovating the property for owners Kecia & Devone and they have hopes to complete and be able to cater to their first customers by May of 2017. The property will be a 170 seat catering hall and restaurant. Operated by Melissa and David Mazzei, EPS is a second generation restoration company. Melissa and David grew up watching their father, Ettore Mazzei, restore a dozen historic projects over their lifetime. The process inspired them to start their own construction restoration company; EPS Contracting.
"It is great to be able to restore a classic building in our neighborhood. My dad has restored a number of buildings right here," said Melissa. "He's always lived in downtown Staten Island and he is committed to staying here,"
"Combining restoration and modernization is an inspiration. The job has aspects of restoration and new construction in all phases," explained David. "Uncovering quality craftsmanship from the 1800's while we demo and do construction is inspiring."
The Pavilion on the Terrace was constructed as a residence by Thomas E Davis in 1835 and then was sold several times before The Pavilion functioned as a hotel in the 1880s until it was converted back into a residence and sold to an attorney, George Greenfield. Greenfield turned around and resold the house in 1910 to the Knights of Columbus, who used the house until 1965 when it started operating as a banquet hall, which is how it is known today.
In 1834 and 1835, [Davis] acquired 100 acres on Staten Island, much of it from the estate of former governor and vice president Daniel D. Tompkins. Davis's plan was to create an elegant summer getaway on the north shore, loosely modeled on England's seaside resort of Brighton. Having dubbed the community New Brighton, Davis immediately began construction along Richmond Terrace on five Greek Revival townhouses, each with an impressive Doric colonnade. Nearby, at the corner of St. Peter's Place, Davis built a mansion for himself and his wife, Anne, likely as a summer retreat, but it seems they had little chance to spend time there. In April 1836, probably aware of the impending financial crisis, Davis sold the development to the newly formed New Brighton Association for $600,000—at the time, one of the most expensive real estate transactions in New York history. [via Curbed]
"This job has all the facets of a restoration and is a major construction job," said Ettore. "It will hone Melissa and David's expertise. This particular job includes structural work, structural gauge framing, sprinkler, electrical and fire alarm systems, site work, restoration woodwork, and historic restoration."
The building currently sits at 404 Richmond Terrace, where EPS is hard at work bringing this historic landmark back to life.
Visit the EPS Contracting website, here
Written By Chris Knight
Chris first began throwing words on paper when he was just a young little boy and while he has grown in age, his size has remained the same.
It has been said that if Disney World were a person, that person would be Chris.
A self-proclaimed professional storyteller who writes stories for money.
And for providing entertainment, he guesses.
Chris also collects dead presidents, but hates going to the beach.
He is a great juggler,
certified in advanced scuba diving,
and also a liar.