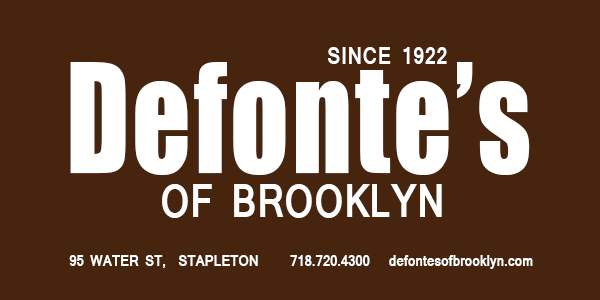 DeFonte's Sandwich Shop original location  opened in Red Hook in 1922, 92 years ago. Defonte's is the oldest surviving eatery in the Red Hook, serving massive, old-school Italian heroes like the Nicky Special, which marries Capicola, Salami, Provolone and Fried Eggplant. To the family run business the state of the neighborhood never mattered, they just kept serving their sandwiches which have now become renowned. Their new location on Tappen Park in Stapleton opened last week at 95 Water Street. This way on Bay welcomes Nicky and his family to our neighborhood. Go enjoy old world Italian favorites to include all the Parmesan you want, Fried Eggplant on any sandwich, Sausage & Peppers,  Pasta, Soup, Nicky's famous Hot Salad and of course Broccoli Rabe! Is your mouth watering yet?
DeFonte's Sandwich Shop
95 Water Street | 718 285 4300 | defontesofbrooklyn.com
Written By Ettore
Ettore grew up working in the restaurant & catering business from the age of 12. He graduated from the College of Staten Island with a Bachelors's in Mathematics & Finance in 1985. In 1986 he started Chez Vous caterers from the basement of his home in Dongan Hills and caters parties at homes and businesses in the tri-state area. In Oct 1987 he rented the first floor of Edgewater Hall at 691 Bay Street. A few years later he added the party rental division to Chez Vous. In 1998 he purchased Edgewater Hall and renovated the first and second floors making them party spaces. Shortly thereafter he purchased from his tenant the cellar bar creating Dock Street Underground a live music venue. His creative projects include his CD Sweet on You, his book, It's Your Right to be Fit, Sexed, and Happy, So Claim It, and he is developing a TV series called Business Underground. His record labels Hanz On Music and Dock Street Records has produced Method Man's "The Meth Lab." and produces 2nd Generation Wu projects.