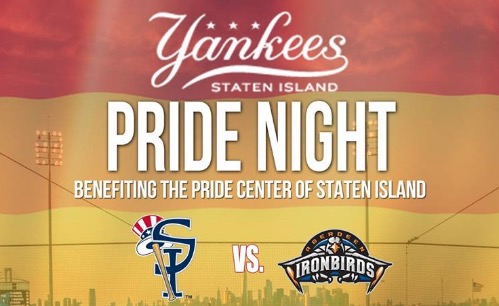 This Thursday, August 3rd, the Staten Island Yankees will be celebrating Pride Night at the Richmond County Ballpark.
Proceeds and donations will be benefitting the local SI Pride Center and there are three ticket tiers available. According to the SI Pride Center website:
Ticket option #1 is only $17 and gets you admission and a seat in one of the better sections of the ballpark.
Ticket option #2 is only $25 and gets you admission to the same section as Ticket Option #1 and a $10 Concession Card.
Ticket option #3 gets you admission to the Skyline Suite where you can view the game in air conditioned comfort with private outdoor seating for $55.
There will also be a buffet option for people who choose ticket option three as well as a meet-and-greet with former MLB Pro Billy Bean.
So come out and have a fun evening with the SI Yankees and help support the SI Pride Center.
Game starts at 6pm, Aug 3rd. 2025 Richmond Ave, New York, New York 10314
Click here to buy tickets.