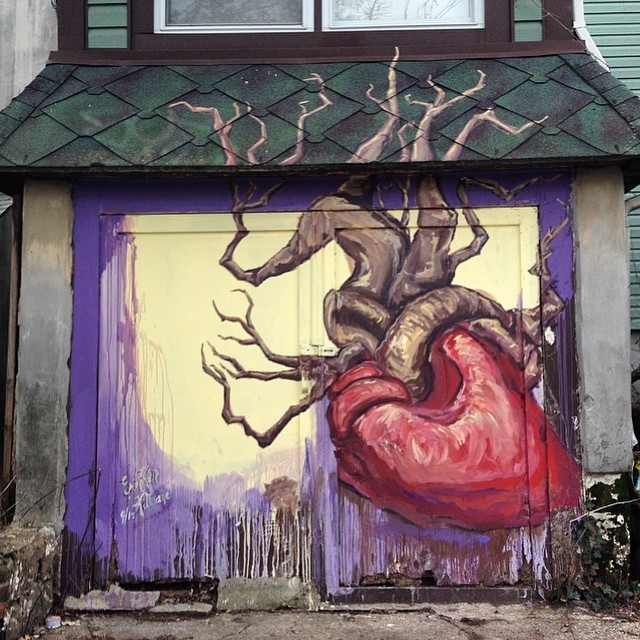 ErinKelli Kilbane is an emerging artist who occasionally paints on live human canvases. The artist whose work seems to transcend medium, is particularly busy this weekend with three different events around Staten Island. (Find details and flyers for those below)
Untapped, a blog which highlights culture in various cities, recently featured one of her non-living canvases in a gallery of incredible street art that can be found around New York City. Here's what they had to say about Kilbane's work:
Staten Island doesn't get much love. The borough famous for the Staten Island Ferry and the Wu-Tang Clan has some art that should be recognized. Someone who agrees with us and has taken steps to help out her fellow Staten Islanders promote their work is ErinKelli Killbane. She is not only a painter, but a teacher, muralist and host of her own interview show. Killbane's piece in (you guessed it) Staten Island is giving us Edgar Allen Poe vibes (join us on our May tour with Boroughs of the Dead), with the branches coming out of the giant heart and taken over the house. This is something different than what we usually place on this list, but a welcome one. We hope to see more from Killbane, who along with a few other artists can shine a light on Staten Island.

See New York's other featured street art, here.
You can find Erin's work all over Staten Island this weekend, read more below:
Friday, May 1: 8pm-12am Live body painting at Hub 17!
Saturday, May 2: 11am-5pm outside of the Conference House

Sunday, May 3: 1pm Photography show opening for Kenneth Paul! Also at Hub 17
You can also find more of Erin's work online, here.
Written By Christopher Olivieri
Chris is a communications professional with a passion for pop culture, media, and all things creative. He has a Bachelor's degree in Communications with a specialization in Media Studies and has experience in running a pop-culture website, freelance writing, coaching, and speaking engagements. He has worked behind the scenes on music albums and co-founded a boutique web design and marketing firm. He is also an amateur photographer and musician. He is always looking for the next exciting project to dive into.