Staten Island's Dosa Garden: A Huge 'Dosa' Flavor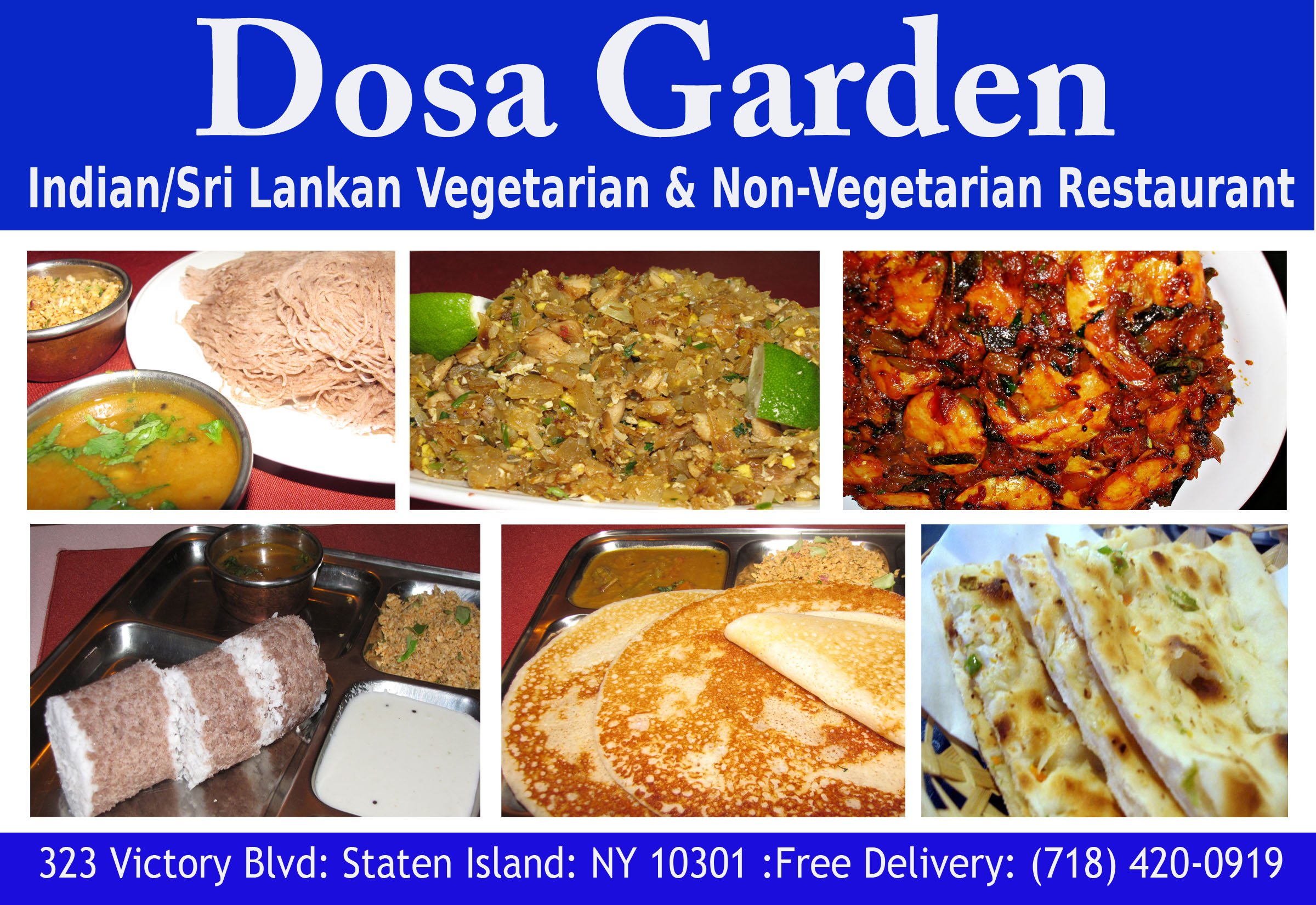 We all have noticed the rise in people taking the initiative to be healthy and the first step they usually take is by altering their diet. Many folks across the country and on our island in particular have embraced the vegetarian and vegan lifestyle. Others have taken the proverbial doctor's orders and lowered their consumption of meat.
Our area has a wonderful selection of establishments that cater to the vegetarian palate whether they seek health food or to sate a craving for comfort foods within their diet.
Dosa Garden is an elegantly appointed restaurant that combines warm and cozy without the crowded feeling that so many establishments have. The aroma that greets you upon entrance is delightful. Spices make the air an appetizer and even if you came for take-out, part of you wants to stay.
Though catering to the Sri Lankan flavor and community this is mainly Indian Food; their chefs are imported from some (by the taste of the food) mystical academy in Chettnadu, India where they have been trained in the culinary arts. When I have the bag filled with food in the car, the scent has caused me to disregard the laws of traffic and quite possibly physics.
One staple of Vegetarian Indian Cuisine is paneer, a fresh cheese that has a milky wholesome flavor; when Dosa Garden's kitchen wizards get their hands and spices on them the effect is astonishing. (note: the author's stomach has decided what dinner will be tonight.) Dishes like Palak Paneer which is a nice spinach curry or Kadai Paneer a thick, tomatoey concoction with crisp green peppers and onions are served on pillowy, Basmati rice. Vegetable Tandoor has such unique texture from its specialized method of cooking: Tandoori ovens are contrivances that are cast from clay and attain high cooking heats.The samosas are flavorful and woefully gone too quickly. Chickpeas are prepared in a rich, cream sauce for a recipe known as Channa Masala.
Though this is not strictly health food the lack of meat is never a concern, for the palate of flavors and variety of Vegetarian dishes offered are always tempting my waistline to expand. This is comfort food with less bad Karma…and the price is very reasonable to boot. I am on a slow quest to try all of their Veggie dishes; the only problem is (other than the fact I would consider eating their food everyday) is that once you find your favorite, it's very difficult to want to try any other recipe. Take the Vegetable Bhaji for example, they are shredded carrots, onions and peppers fried to perfection, light crisp and you get a bunch in an order. How can I face not having my meal accentuated by their presence? Can any one say #FoodieProblems?
Visit Dosa Garden's official website, here. 
Latest posts by Elaine Mendez (see all)