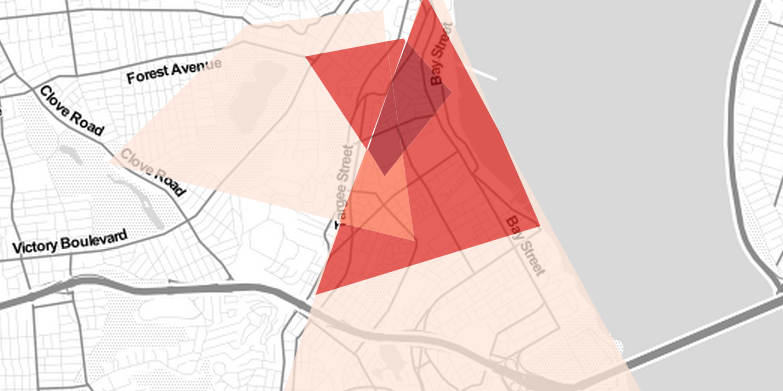 Last month, we asked if you knew what the boundaries for your neighborhoods were, pointing out that there are no official ones set by the city. We learned that when a DNAinfo.com article explained why there's so much confusion when it comes to exactly where one neighborhood ends and another begins. The DNAinfo post offered users the opportunity to highlight the boundaries of the neighborhood that they live in on Google Maps, in order to see if there was any kind of consensus among residents. It seems that this is not the case.
Today, DNAinfo followed up on that interactive post, with a new one. Today's post features shaded maps of various New York City neighborhoods, highlighting the different interpretations of borders for each neighborhood. As you can see above, there was some serious disagreement as to where Stapleton begins and ends. This happened across the board.
Want to see what your neighbors think your neighborhood's boundaries are? Check out DNAinfo's maps, here.
Written By Christopher Olivieri
Chris is a communications professional with a passion for pop culture, media, and all things creative. He has a Bachelor's degree in Communications with a specialization in Media Studies and has experience in running a pop-culture website, freelance writing, coaching, and speaking engagements. He has worked behind the scenes on music albums and co-founded a boutique web design and marketing firm. He is also an amateur photographer and musician. He is always looking for the next exciting project to dive into.