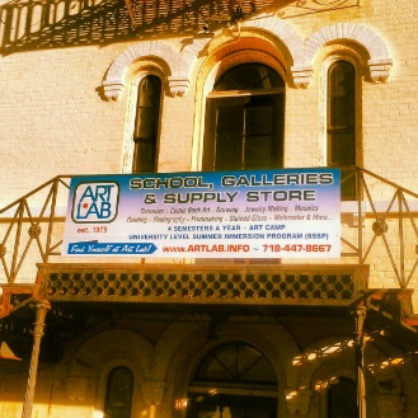 One of the North Shore's greatest gems, the Artlab, can be found inside Snug Harbor Cultural Center. Artlab contains the heart and soul of its original founding members as well as those of the present artists who occupy studios, teach, and exhibit their art as well as student art all year long.
The Artlab and its foundation offer an interesting piece of North Shore history. In 1975, Art Lab opened in a converted factory building on Norwood Avenue, in the Clifton section of Staten Island. Art Lab was Staten Island's first cooperative arts-related teaching facility, and offered workshops and exhibition resources for artists of all levels of experience.
As Art Lab grew, the organization was restructured and moved to larger and more visible headquarters at the Snug Harbor Cultural Center as the Center was developing its identity as a home for cultural organizations.
Enthusiastically welcomed by the Harbor as "exactly the kind of thing we are looking for," Art Lab expanded its faculty and curriculum, and undertook a building renovation project at the new site.
Art Lab occupied various locations in buildings G & H before settling in its current headquarters on the first floor of building H. Art Lab's class offerings and gallery programming have expanded through the years to meet the needs of the Staten Island community as we strive to fulfill the mission set down by our founding members in 1975.
The Mission Statement of this institution says it all: to offer Staten Island the best possible and most professional independent school of fine and applied art, and to bring knowledge and appreciation of artistic excellence to the metropolitan community through regular classes, exhibitions, demonstrations, workshops, and lectures.
Upcoming Events include Art Lab's 12th Annual Open Show and reception on January 10th., 2015 at 5 P.M. For more information, call Artlab at (718) 447-8667 .